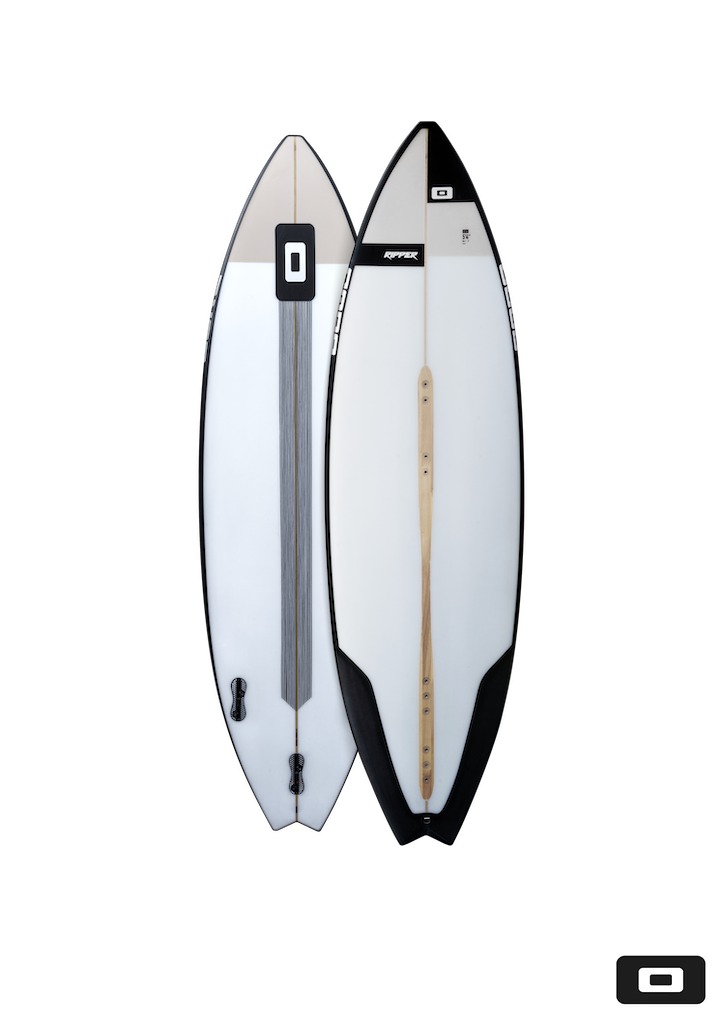 Ripper 5
1.149,00 €
price incl VAT
A Timeless Classic for Every Wave
ALLROUND WAVE
Does the legendary Ripper 5 need an introduction? Probably not. Still made in the classic surfboard construction in combination with modern manufacturing technology, it is your loyal and durable companion who will reliably support you in a wide variety of conditions. With its shortboard outline complemented by elements of a fish shape and the progressive rocker, the Ripper 5 is ideal for every wave kiter and any wave from small waves to steep overhead breakers.
Sizes (Width | Thickness | Volume):
5'4'':  18 1/2'' | 2'' | 22,6 L
5'8'':  19'' | 2 1/8'' | 26 L
5'11'': 19 5/16'' | 2 3/16'' | 29 L
Delivery
The Ripper comes standard with a rear traction pad, leash plug, and FCS II fin boxes.
Features:
Shortboard Outline:

 

Improves drive & stability in smaller waves
Progressive Rocker:

 

3-stage rocker with a fast, flat middle for speed in smaller waves
Mini Swallow Tail:

 

Adds lift, speed, and grip in the corners
Active Foam Core:

 

Superior flex memory
Classic Glass Coat:

 

Classic feel. Good looks. Easy to fix
Tucked Under Rails:

 

Extreme grip and control in turns
Single Concave:

 

Improves grip
Strap-Ready:

 

Your choice. Go strapless or add straps
Double Stringer:

 

Superior torsion management
Blunt Nose:

 

Safer. Travels better
Thruster Fin Setup:

 

Optimizes the balance between control and a loose, skatey feel
Original FCS II System:

 

The world standard in fin systems
Find more specs at ridecore.com/us/kite/boards/surfboards/ripper-5
_____________
ACCESSORIES
Original FCS II Fins
Bring your own or choose from four recommended FCS II thruster fin sets, which differ in terms of design and performance.
CORE Straps
Although the Ripper comes out of the box strapless, it's designed for our optional CORE straps.
Front Traction Pad
Nice to have when riding strapless.
Surf Leash 6'0''
The leash in CORE yellow can be recognized everywhere, and especially well under water, if it ever needs to be sorted.
The TPU is of extremely high quality, which is why we were able to reduce the diameter to keep the resistance as low as possible.
Single Boardbags
It's true; boards ding easily during transport. So protect your babies with a premium, heavy-duty bag that'll protect all your boards from those nasty travel dings. Available in many sizes, our high-quality bags will protect your surfboard for years to come.