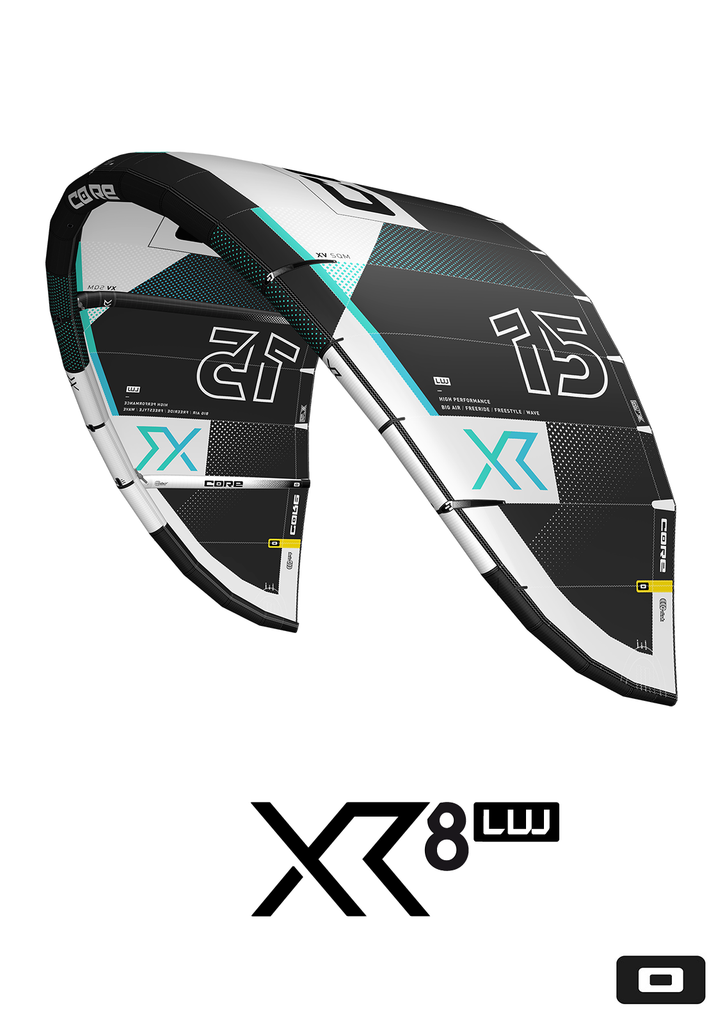 XR8 Lightwind
2.329,00 €
price incl VAT
CORE XR8 LW
Top light wind performance meets unparalleled riding comfort
HIGH PERFORMANCE FREERIDE + | FREESTYLE
WHO NEEDS FOILING WHEN YOU CAN SHRED?
The XR8 LW unlocks great performance in light winds and impresses with a high level of riding comfort.
With its ultra stiff 5-strut-frame in Deltabow shape, you will glide early and achieve rich jumps with decent hang time even in the lower wind range. Its lightweight construction helps you go upwind easily, and its unparalleled flight stability, power, and control let you enjoy every session.
Thanks to the significantly stiffer ExoTex 2 material the kite's entire airframe has been fine-tuned and enables smaller leading edge and strut diameters which increase its upwind abilities. The CoreTex 2 canopy is both highly durable and has an extremely low-stretch. These two features work together to give the canopy unparalleled flight stability, power, and control.
Never miss a session again - try the new XR8 LW now!
Sizes:
15.0 | 17.0
Features:
New! EXOTEX® 2 ULTRA RIGID DACRON: ultra-rigid and robust Leading Edge 

EXOTEX® LIGHT STRUTS: just as robust, but lighter and more revving 

CORETEX® 2 TRIPLE RIPSTOP CANOPY: extremely high durability and optimal UV protection

5 STRUT FRAME: optimal stability in all flight positions

DELTA BOW SHAPE: more power and depower

INTELLIGENT ARC: finely controllable enormous power

CIT MODES: flight character, bar forces and reactivity individually adjustable 

ULTRALIGHT WINGTIPS: crisp feeling of pressure point and comfortable flight character

INSTANT RELAUNCH: effortless water launches

SPEED PUMP SYSTEM: easy and fast ventilation

SENSOR BAR SYSTEM: optimal coordination of kite and bar system

6 YEARS PARTS GUARANTEE: replacement parts availability for an average kite lifetime.

TWO COLOR OPTIONS: BrightWhite10 and TechBlack10
Delivery:
The XR8 LW comes with a comfortable backpack, manual and a repair kit.
Find more specs at ridecore.com/us/kites/xr8-lw