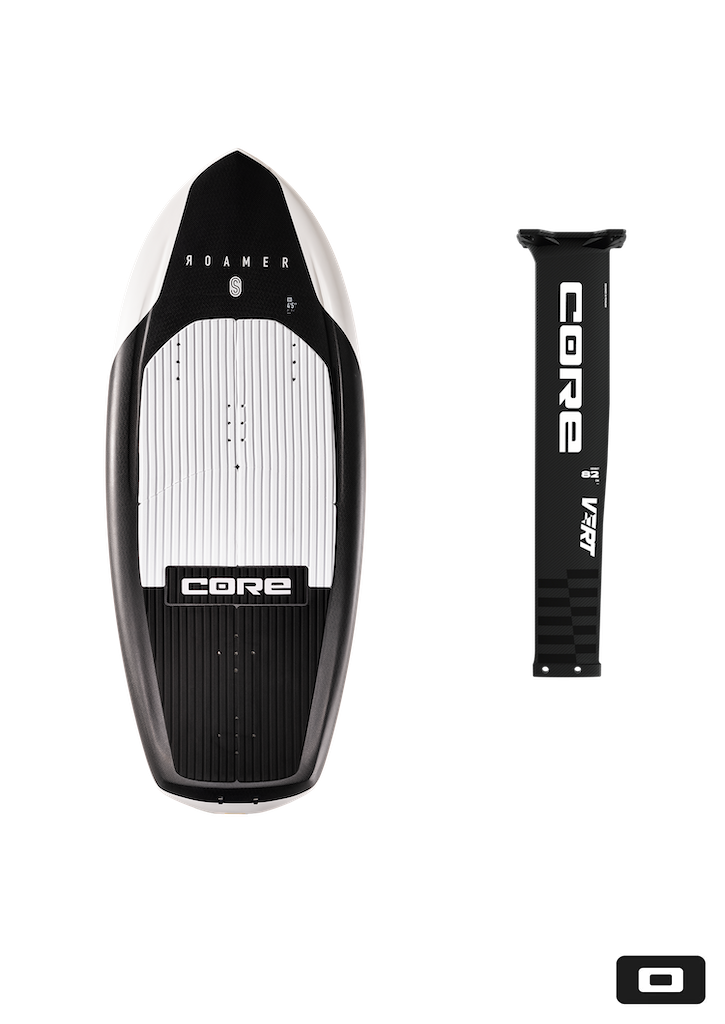 ROAMER S and VERT Set
4.569,00 €
price incl VAT
CORE Roamer S wingboard
Surf and Style
The Roamer S is the sporty pinnacle of the range. With a volume of 45 and 38 liters, it allows a maximally sporty riding style. The surf shape-oriented outline promises maximum freedom of movement during radical foil maneuvers. The high-quality construction "Made in Europe" not only gives the board a particularly low weight with maximum rigidity, but also that outstanding finish it deserves
—
Sizes
(Volume | Length | Width | Thickness)
45 L | 4'8" | 23 2/26" | 3 1/8"
38 L | 4'5" | 21" | 3 1/16"
AVAILABLE SPRING 2024:
63 L |4'11" | 22" | 4 11/16" 
78 L | 5'3" | 22 7/6" | 5 3/8"
Delivery
The Roamer S comes with Full Traction Pad, Leash Plugs, Grab Insert and US-Box-Rail System (90 mm).
Get more info at ridecore.com/us/wing/boards/roamer-s
—
Accessories
Surf Straps
There if you need them. The CORE Wingfoil Strap set features three super comfortable Velcro straps, six V2A stainless steel screws, and six V2A anti-twist plates with variable screw positions. Our fully adjustable straps feel great in bare feet or booties with just the right amount of support.
Coiled Leash 9ft
The spiral-shaped leash made of urethane ensures that it does not get in your way
during the action. The leash has a padded neoprene cuff to attach to the leg and has
two sviwels that prevent twisting.
Single Boardbags
Give dings zero chance. The CORE wingfoil  board bags, available in two sizes 5'7" and 6'3", features a timeless, high-quality design. Made from top-notch materials and held to the highest CORE quality standards. The best part: the board bag features a Velcro opening, allowing you to pack your board with a mounted foil.
---
CORE Vert Foil Set
Next Level Foiling
The Vert foil system takes your session to a new level. With a complete overhaul of five crucial components, we've meticulously engineered a setup that's perfectly coordinated to enhance your experience. Symbolic on top of everything is the new carbon mast. The special design allows not only a thinner profile, but also a taper in depth. Less resistance – more speed!
We've introduced three new high-aspect front wings to ensure maximum glide even in the smallest waves and absolute top speed during take-off. The new 220 stabilizer perfectly complements the front wings, resulting in an entire system with a playfully agile character, thanks to its flatter profile.
All Vert products were developed on the basis of the Spectrum fuselage. This allows front wings, masts and stabilizers to be fully combined with the Spectrum series.
—
Sizes:
Front Wing: 700 - 850 - 1050 sqcm  
Stabilizer: 220 sqcm
Fuselage: 70 cm
Mast: 74 - 82 - 90 cm
Delivery: The Vert foil set is delivered with all necessary accessories (mast, front wing, stabilizer, fuselage, mastbase and screws) as well as the required tools (t-handle tool, screw paste) and can be combined with any US box rail system (90 mm).
 
Get more info at ridecore.com/us/wing/foils/vert
—
Accessories
Foil Bag 125
Padded bag for protection and transport of a complete, disassembled wing hydrofoil
Foil Cover Set
Padded bags for protection and transport of each individual wing hydrofoil component
Foil Wingsuit 100
Padded premium cover for protection and transport of an assembled hydrofoil