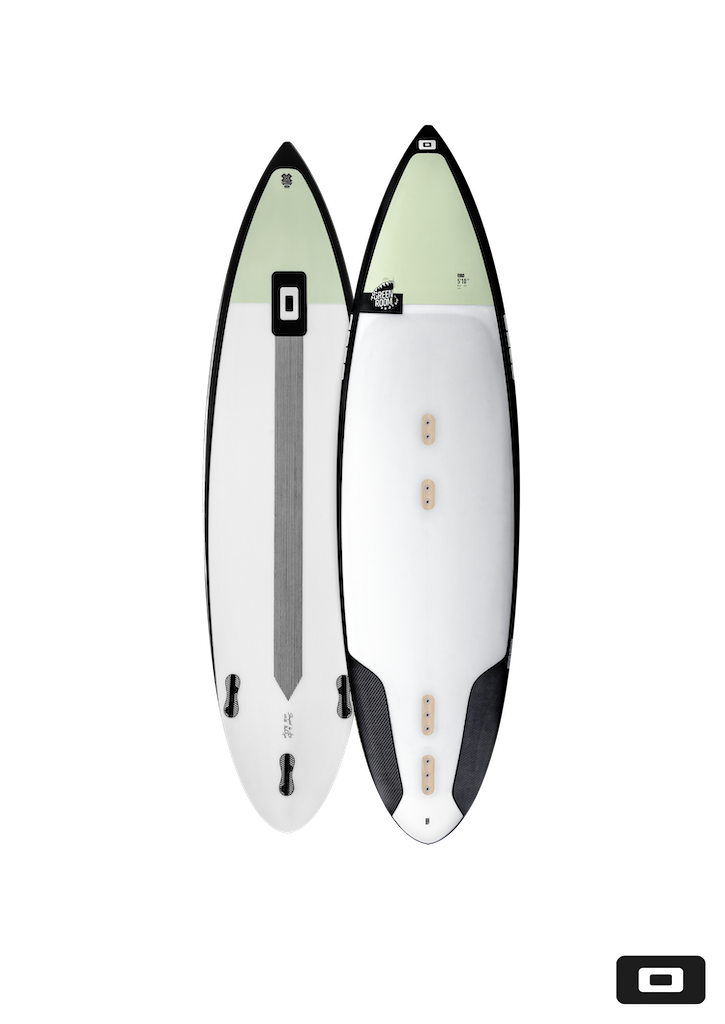 Green Room 3
1.249,00 €
price incl VAT
Precision Performance in Big Waves
BIG WAVE
This is your sign that it's time to try the The Green Room 3. THE performance surfboard of the CORE range, suitable for medium to large waves and experienced wave kiters who want to refine their precious down-the-line rides with high speed and maximum control. No problem if you are still practicing your wave skills, due to the enormous gliding properties, the board takes the elevator back to the peak immediately afterwards. The EPS composite sandwich has been given a new top deck made of the lighter T10 PET, which has excellent stiffness and strength and is therefore extremely robust against impacts.
Sizes (Width | Thickness | Volume):
5'6'': 17'' | 1 15/16'' | 19.2 L
5'8'': 17 1/4'' | 2 1/16'' | 20.4 L
5'10'': 17 3/8'' | 2 1/4'' | 23.64 L
6'0'': 17 11/16'' | 2 1/3'' | 25.3 L
Delivery
The Green Room comes with a rear traction pad, leash plug, and FCS II fin boxes.
Features:
Top Deck from T10 PET Sandwich:

 

copes with heavy landings and is very dent resistant
EPS Composite Sandwich:

 

light core material with high damping properties and good ding resistance
Carbon Tail Patch:

 

gives rail enormous pressure stability and protects against dents in the deck
Level One Verified Ecoboard:

 

More sustainable materials for a better planet
Big Wave Outline:

 

Narrow width for extreme control on big waves
Round Pin Tail:

 

Sits deeper for better control at speed
Pro Rocker:

 

Progressive 3 stage rocker to manage bigger waves
3D Hull:

 

Single concave that transitions to a Vee tail
Tucked Under Rails:

 

Extreme grip and control in turns
Strap-Ready:

 

Your choice. Go strapless or add straps
Blunt Nose:

 

Safer. Easier to pack
Thruster Fin Setup:

 

Optimizes the balance between control and a loose, skatey feel
Original FCS II System:

 

The world standard in fin systems
Find more specs at ridecore.com/us/kite/boards/surfboards/green-room-3
_____________
ACCESSORIES
Original FCS II Fins
Bring your own or choose from four recommended FCS II thruster fin sets, which differ in terms of design and performance.
CORE Straps
Although the Green Room 3 comes out of the box strapless, it's designed for our optional CORE straps.
Front Traction Pad
Nice to have when riding strapless.
Surf Leash 6'0''
The leash in CORE yellow can be recognized everywhere, and especially well under water, if it ever needs to be sorted.
The TPU is of extremely high quality, which is why we were able to reduce the diameter to keep the resistance as low as possible.
Single Boardbags
It's true; boards ding easily during transport. So protect your babies with a premium, heavy-duty bag that'll protect all your boards
from those nasty travel dings. Available in many sizes, our high-quality bags will protect your surfboard for years to come.